Mission San Luis
In Apalachee Province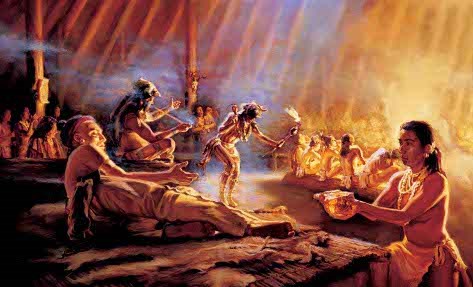 During the Spanish mission period, Europeans thought the Apalachee Indians were the most advanced native peoples in La Florida. The Apalachee chiefdoms were among the most populous and powerful. The leaders and their assistants maintained relations (not always friendly) with other native peoples throughout the region.
It isn't known why, but in 1656 Mission San Luis was moved to the second highest hill in present-day Tallahassee. Seeking to continue his political and military alliance with the Spanish, the chief of San Luis agreed to move his village and also to build a fortified house (casa fuerte) for a small garrison of soldiers. By 1675, this secondary location of the mission was called San Luis de Talimali.
When San Luis was built in 1656, the village resembled those that existed before Europeans arrived. The Apalachee leaders and their families lived in round, palm-thatched houses bordering the central plaza where ceremonies, business dealings, and ballgames were held. The largest Apalachee building by far was the council house that could hold 2,000 to 3,000 people. In the council house, the Apalachee and their chiefs met to govern the village, consider complaints, administer justice, conduct traditional rituals, and receive visitors.
The Catholic Church and its friary (convento) with detached kitchen (cocina) completed the main public buildings surrounding the central plaza. The church entry and the council house door faced each other across the circular plaza. This was a symbol of respect the Spanish government accorded Apalachee society and its leaders. The fort complex with its blockhouse and protective log wall (palisade) were a short distance away.
Apalachee families built groups of palm-thatched, single-room dwellings away from the plaza. These clusters of huts were closer to farm fields and inhabited by people who were related each to the other by marriage or birth. Living some distance away, these Apalachees journeyed to the central plaza for Saturday evening prayers, Sunday Mass, ball games, and other special events.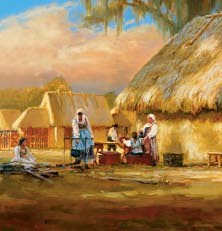 Spanish families, who began to arrive in significant numbers after 1675, lived in small, rectangular houses made of wattle-and-daub or wood planking with palm-thatched roofs. The Hispanic settlers built these two-room cottages (casitas) closer to the central plaza than the Apalachee dwellings. The Apalachees spent most of their time outdoors, using the huts mostly for sleeping. The Hispanic settlers spent more time indoors. Both probably often cooked outdoors over open fires. Only the friary had an indoor kitchen.
By contrast, St. Augustine and Pensacola were constructed around central squares bounded by a symmetrical grid of intersecting streets. Spanish ordinances decreed this urban plan for Hispanic colonial towns. The Hispanic settlers lived within town limits and the native peoples, if any, lived beyond the town's borders.