Group Tours
Popular with teachers and students as well as adult tour groups, visiting the site of La Florida's western capital brings history to life!
Time travel with your youth or adult group to experience life in the 17th century! Our tours encourage critical thinking and emphasize learning by participating in interactive activities. Lesson plans, teacher's guide and other grade-specific educational resources designed to enhance and enrich your visit to Mission San Luis are available on our Teacher Resources page. The guide (link below) is also a great resource for adults!
Self-Guided Group Tours
(2 1/2 hours)
Mission San Luis currently only offers self-guided tours for visitors. We expect to offer guided group tours again soon. During a self-guided tour, your group is welcome to view the 12-minute introduction movie in the theater and then walk independently around the historic site. Onsite you can speak with our villagers (living history interpreters) at the different reconstructed colonial buildings. (Please be aware that some buildings may not have staff in them at certain periods of the day and the Council House is currently unthatched. Visit the Council House Construction page for more information and an activity!)
In addition to the living history interpreters, there is interpretive signage around the historic site and a printed visitor's/teacher's guide is available. Also see the online version of the Mission San Luis Guide book.
We have two tour window opportunities each day: 10:00 a.m. — 12:30 p.m., and 1:00 — 3:30 p.m. but we will consider other options. 
We look forward to seeing your group soon!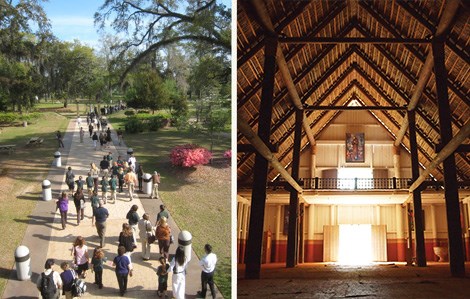 Fees and Reservations
• Adults  -  $5 per person
• Seniors (65+)  -  $3 per person
• Youth (ages 6-17) -  $2 per person**
• Title One schools - FREE**
• Children under age 6  - FREE
Note: Your group may be divided into smaller groups depending on its size.

**One chaperone per every ten students is required and is admitted free. Each additional adult beyond the 1-to-10-students ratio will be charged regular $5 admission (or $3 for seniors 65+).  
Teachers and bus drivers are also admitted free.
How to Make Reservations
To submit your reservation request for a group tour, please download, complete, save, and email one of the following forms to [email protected]  (Note: using Adobe Acrobat is best for this form.)
For more information contact Mission San Luis at 850.245.6406 or via email. If you have not filled out the form, please have the following information ready: date and time you wish to visit, school or group name and address, a contact email, and number of students and/or adults. We will also ask how many vehicles you will have and if you are shopping in the gift shop or interested in eating lunch at the picnic area. 
Payment can be made by cash, check, or credit card on the date of the visit.
After You Reserve
Visit our Resources for Teachers page for teacher guides, lesson plans, and other materials to enhance and enrich your visit to Mission San Luis. These materials are provided at no charge and enable your students to derive the maximum benefit they can from their visit.