Gardens
The Gardens and Field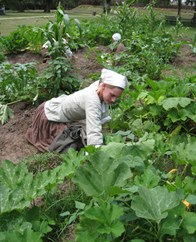 We invite you to visit all of our gardens at Mission San Luis including our Apalachee Field Crop, Friary Apothecary Garden, Spanish House Herb Garden, and our Spanish Field Crop Gardens. In the Spanish Field Crop, we plant Old World vegetables as well as a few New World foods that the Spanish adopted. Growing from seed, we plant many winter crops such as broccoli, kale, spinach, radishes, cabbages, onions, cauliflower, lettuce, chard, carrots, turnips, and rutabagas. We also plant summer crops which include peas, tomatoes, peppers, cucumbers, amaranth, and eggplant. Culinary herbs, once brought to La Florida by the Spanish, continue to grow in our Spanish House Herb Garden. These include oregano, sage, mint, cilantro, tarragon, bay, and chives. Our Apalachee Field Crop produces numerous native harvests of maize, beans, and squash. These plants were typically planted together by Apalachee, as they are companion plants. Our Friary Apothecary Garden is where you can find medicinal plants such as rosemary, yarrow, mint, basil, echinacea, comfrey, and garlic chives. These herbs are then placed in our Convento infirmary in their medicinal context.
All of the produce that we grow at Mission San Luis is part of our Historic Foodways Program and we use it in cooking demonstrations. We also display and interpret many of the produce in our historic buildings. To learn more about our historic gardens and foodways programs, please join us in our upcoming events.
Ongoing cooking demonstrations are at the Spanish House, weather permitting.
To volunteer in the gardens, please contact us at 850.245.6412 or [email protected].