Unforgettable Experiences in an Extraordinary Place
Special Events
Events at Mission San Luis
Except as indicated, admission to all events has the same fee as regular admission.
(Adults: $5; Seniors 65+: $3; Children 6-17: $2; Children under 6, Members & Active Duty Military: FREE.)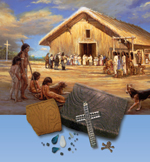 Archaeological Site Tours
Every Wednesday in March at 11 am for Florida Archaeology Month

Join a Mission San Luis archaeologist for a tour of Tallahassee's only National Historic Landmark from an archaeological perspective. Learn how the site was excavated and what was discovered about the Apalachee and Spanish residents from the 17th century.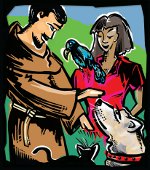 Blessing of Animals
Furry, feathered, or other animal friends are invited to be blessed at our annual event. The Blessing of Animals originated in the 13th century in remembrance of St. Francis of Assisi, the patron saint of animals and the environment, who believed that all animals should be treated with dignity and respect. Mission San Luis is a pet-friendly site, so bring your companions and enjoy the beautiful park setting and living history programs year-round.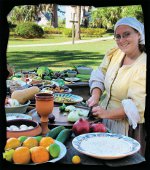 Giving Thanks
Sunday before Thanksgiving
(November 19, 2017: 10 am–4 pm)
2012 Recipes
17th-Century Apalachee & Spanish Foodways
See demonstrations of traditional food preparation by historical interpreters in period dress. Visitors can observe outdoor cooking with native and European plants from the site's gardens and fields. There will be demonstrations of meat and fish smoking on the barbacoa as well as activities for children. Learn how people and foods from the New and Old Worlds came together — how each culture changed but also kept traditional and well-loved foods.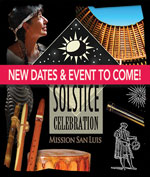 Winter Solstice Celebration

Southeastern Indian Culture & Heritage
We are proud of the legacy of the popular Winter Solstice Celebration and now we are reimagining the event into the Southeast's preeminent experience honoring its regional Native Peoples! Stay tuned for updates on this exciting transformation.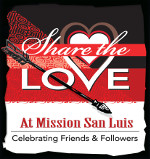 Share the Love
Sunday before Valentine's Day
(Sunday, February 11, 2018 / Noon–4 pm)

Celebrating Friends and Followers
Help Mission San Luis celebrate and share the love that its social media followers, members, volunteers, and the community have shown. Come out for Cupid's Archery School, scavenger hunts, valentine-making, living history love stories, a photo booth, a bake sale, hot chocolate, and more!
Like Mission San Luis on Facebook for FREE admission to this event!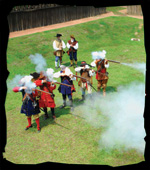 17th-Century Military Muster
Spanish and Apalachee Military Life in La Florida
Come experience colorful pageantry and blackpowder musket and cannon fire at Mission San Luis' fort, Castillo de San Luis. Enjoy the opportunity to learn about the world of Spanish soldiers and Apalachee warriors at Spanish Florida's western capital.