Virtual Summer Camp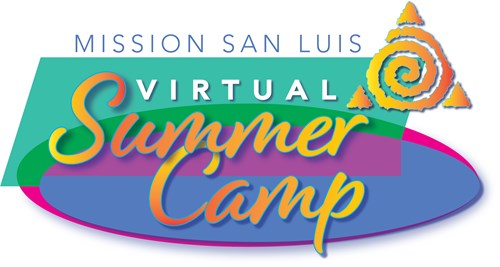 Be a Virtual Time Traveler This Summer! 
Mission San Luis is pleased to offer FREE ONLINE Summer Camp experiences 
June 15 to August 31, 2020!
Every Monday a new Time Travel Quest will be posted here on our website.
Keep track of new posts on our Facebook page. 
•  VIRTUAL TIME PORTAL VIDEOS
    -- Our costumed "villagers" discussing a variety of topics 

•  FUN CRAFTS & ACTIVITIES
    -- Some free materials will be provided for pick up!

•  A NEW 17TH-CENTURY THEME EACH MONTH
    -- Foodways | Trade & Travel | Architecture

•  P R I Z E S
    -- Complete at least 4 of the 12 quests throughout the summer!

1)  Click the button above and download your Virtual Time Traveler Checklist pdf to get started!
2)  Each week, download your Time Travel Quest pdf below and have fun!*
3)  Complete and send in your Virtual Time Traveler Checklist by September 14, 2020 for your prize!
-- Note: Make sure to download your pdf forms before completing and saving them.
Clicking links below does NOT download them. You must click the down-arrow icon in your browser.

*Note: Quests can be completed any time after they have been posted.
  For the prize you need to return your completed checklist by September 14, 2020.