Demonstrators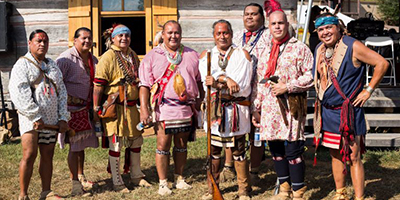 The Warriors of AniKituhwa
Historic Cherokee dances – such as the Cherokee War Dance and Eagle Tail Dance – will be brought to life by The Warriors of AniKituhwa. The official cultural ambassadors of the Eastern Band of Cherokee Indians, the Warriors are sponsored by the Museum of the Cherokee Indian in Cherokee, North Carolina. In addition to presenting two dance sessions each day, they will also provide cultural demonstrations of the Cherokee blow dart gun, the atlatl spear thrower, and moccasin making.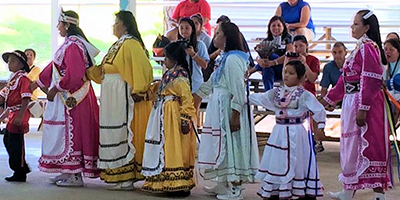 The Mississippi Band of Choctaw
The Mississippi Band of Choctaw will perform Choctaw Social Dances, which mark important aspects of community and family life. These are traditional dances that are passed down through generations in families and the community. Tribal members will also demonstrate the traditional stickball game in the Mission's historic plaza, as well as cooking demonstrations at their booth.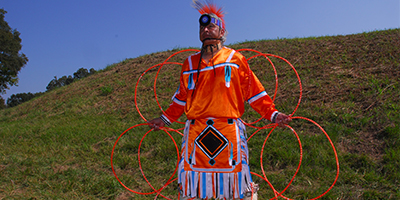 Lyndon Alec
Mr. Alec is an engaging hoop dancer from the Alabama-Couchette Tribe, who will demonstrate this popular type of dance at Winter Solstice.  He has been performing the Indian Hoop Dance for 41 years and has travelled throughout the United States performing in places such as Iowa, Illinois, Washington, D.C., the New Orleans Jazz Festival, and at the Madison Square Garden in New York.  Has performed at multiple Native American Cultural Sites such as Moundville.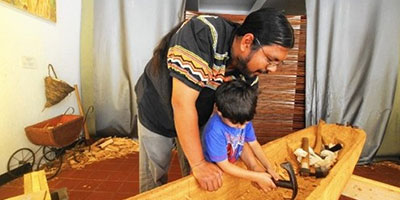 Pedro Zepeda
Enjoy a 19th-Century canoe carving demonstration by Pedro Zepeda! Pedro is a Traditional Arts and Outreach Coordinator of the Seminole Indian Tribe, and will be showing his woodcarving technique throughout the Winter Solstice event.  He will also be providing storytelling performances on the main stage at certain times during the day. 
(photo: Pedro Zepeda and son carving a canoe, credit Barbara Corbellini Duart, Southflorida.com)