Unforgettable Experiences in an Extraordinary Place

"This was a wonderful way of connecting all the content we learned in the classroom to a live, sensory experience."
–4th Grade Teacher Southport Elementary

Mission San Luis brings history to life! Our programs encourage critical thinking and emphasize learning by doing hands-on and interactive activities. All programs correlate with Sunshine State Standards and are designed to enhance skills assessed by the FCAT. A Teacher's Guide, lesson plans, and other grade-specific educational resources designed to enhance and enrich your visit to Mission San Luis are available by clicking "Resources for Teachers" on the left.
San Luis Highlights – (1-1 1/2 hours)
The Highlights Tour will lead your group through a selection of the reconstructed colonial buildings and touch on the important themes of the site.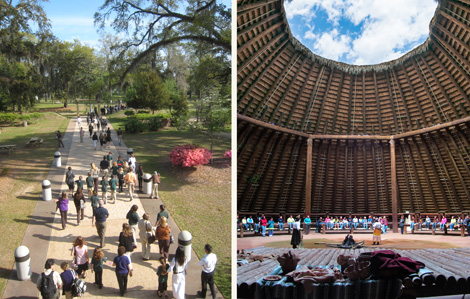 Journey to the Past – (2-2 1/2 hours)
The Journey Tour features a more comprehensive experience, including the introductory video and all areas of the historic village.

The two tour windows each day are 10 am–12:30 pm and 1:30–3:30 pm.
Please contact Mission San Luis staff at 850.245.6406 or email us at programs@missionsanluis.org to book programs or receive more information. We advise that you book your tours early, especially for the spring. Picnic tables are available near the Visitor Center for your use at no additional cost. We also invite you to visit El Mercado: The Shop at Mission San Luis, where we have reasonably priced souvenirs and other merchandise for purchase. Please note that tour times do not include a stop at El Mercado. Please allow an additional 20-30 minutes for every 20 visitors to El Mercado.
Tours will begin at the scheduled time even if the group arrives early. If the group arrives late the tour will be abbreviated.

Next Generation Sunshine State Standards:
Grade 3:
Social Studies:
SS.3.E.1.1: Give examples of how scarcity results in trade
SS.3.E.1.3: Recognize that buyers and sellers interact to exchange goods and services through the use of trade or money.
SS.3.G.4.2: Identify the cultures that have settled the United States, Canada, Mexico, and the Caribbean.
Reading/Language Arts:
LA.3.1.6.1: The student will use new vocabulary that is introduced and taught directly.
Grade 4:
Social Studies
SS.4.A.3.1: Identify explorers who came to Florida and the motivations for their expeditions.
SS.4.A.3.2: Describe causes and effects of European colonization on the Native American tribes of Florida.
SS.4.A.3.4: Explain the purpose of and daily life on missions (San Luis de Talimali in present-day Tallahassee).
SS.4.A.3.6: Identify the effects of Spanish rule in Florida. SS.4.A.3.7: Identify nations (Spain, France, and England) that controlled Florida before it became a United States territory.
Reading/Language Arts:
LA.4.1.6.1: The student will use new vocabulary that is introduced and taught directly.
LA.4.5.2.3: The student will listen attentively to speakers and takes notes as needed to ensure accuracy of information.
LA.4.5.2.4: The student will ask questions of speaker, using appropriate tone and eye contact.
Grade 5:
Social Studies
SS.5.A.3.1: Describe technological developments that shaped European exploration.
SS.5.A.3.2: Investigate (nationality, sponsoring country, motives, dates and routes of travel, accomplishments) the European explorers.
SS.5.A.3.3: Describe interactions among Native Americans, Africans, English, French, Dutch, and Spanish for control of North America.
SS.5.A.4.1: Identify the economic, political and socio-cultural motivation for colonial settlement.
Reading/Language Arts:
LA.5.1.6.1: The student will use new vocabulary that is introduced and taught directly.
Grade 3-5:
Foreign Languages
FL.D.2.2: The student recognizes that cultures have different patterns of interaction and applies this knowledge to his or her own culture.