Unforgettable Experiences in an Extraordinary Place
| | |
| --- | --- |
| Education Programs - Outreach | Back | Next |

"Thank you for the wonderful program you recently presented to our fifth graders. Your handouts prior and after the program were superb! The high quality of the information and layout would make a good resource book. We appreciate the opportunity to involve our students in an experience they can't stop talking about!"
–Pineview Elementary Teachers Tallahassee, Florida

Bring history alive without leaving the classroom by hosting a Mission San Luis outreach program. Our museum educators will explore important themes and issues concerning Florida and the history of Mission San Luis. All programs correlate with Sunshine State Standards and are designed to enhance skills assessed by the FCAT. Extensión San Luis programs are ideal for 3rd through 5th grade classes, but can be adapted to accommodate a wide range of ages and can be presented in English or Spanish. We also offer presentations for adults that can be modified based upon the needs of the group, and Assembly programs for larger groups of adults or students.
Each 50 minute program features:
Teacher resources and lesson plans (sent prior to the outreach date)
Introductory video to provide historical context
Hands-on, interactive learning
1) Herencia de La Florida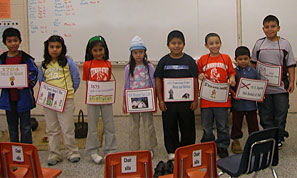 This unique program addresses the influence of Spanish heritage on Florida's history in order to foster greater awareness of Hispanic cultural contributions. Herencia de La Florida focuses on the lasting impact of early Spanish settlers on the Apalachees and the Americas through interactive components and specialized lesson plans.
2) Trade and Travel in the New World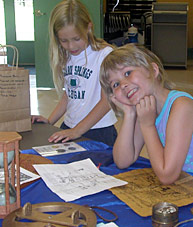 This program focuses on the Age of Exploration and the impact of colonization and the post-contact era. Topics include navigational tools, trade goods and cultural diversity in the Americas.
3) A Child's Life in 17th Century Florida
The life of a 17th-century child included more work than play. Students will explore gender roles and cultural expectations of colonial life. Topics include period clothing, everyday chores and apprenticeships.
4) Apalachee Customs and Culture
Learn about the lifestyle and traditions of the Apalachee people, who lived in North Florida long before Mission San Luis came into existence. Topics include archaeology, foodways, shelter, clothing and technology.
Next Generation Sunshine State Standards: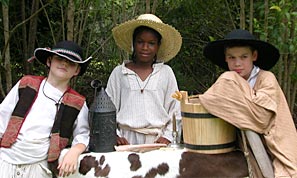 Correlations Grades 3 through 5:
SS.3.G.4.2: Identify the cultures that have settled the United States, Canada, Mexico, and the Caribbean.
SS.3.E.1.1: Give examples of how scarcity results in trade
SS.3.E.1.3: Recognize that buyers and sellers interact to exchange goods and services through the use of trade or money.
SS.4.A.3.1: Identify explorers who came to Florida and the motivations for their expeditions.
SS.4.A.3.2: Describe causes and effects of European colonization on the Native American tribes of Florida.
SS.4.A.3.4: Explain the purpose of and daily life on missions (San Luis de Talimali in present-day Tallahassee).
SS.4.A.3.6: Identify the effects of Spanish rule in Florida.
SS.4.A.3.7: Identify nations (Spain, France, England) that controlled Florida before it became a United States territory.
SS.4.A.9.1: Utilize timelines to sequence key events in Florida history.
SS.5.A.1.2: Utilize timelines to identify and discuss American History time periods.
SS.5.A.3.1: Describe technological developments that shaped European exploration.
SS.5.A.3.2: Investigate (nationality, sponsoring country, motives, dates and routes of travel, accomplishments) the European explorers.
SS.5.A.3.3: Describe interactions among Native Americans, Africans, English, French, Dutch, and Spanish for control of North America.
SS.5.A.4.1: Identify the economic, political and socio-cultural motivation for colonial settlement.